Solar Power Contribution and its Future
Solar Power in India continues to grow at a fast pace as technology improves and the prices fall along with increasing government incentives. In the year 2017, India had the most prominent ever solar power capacity addition of 5525.98MW, along with the total capacity addition of 12.87 GW of Solar power over the last three years. As the need for a clean source of energy increases, India looks on to double their renewable electricity capacity. As of December 2017, the solar power sector produces a cumulative of 17.05 GW, as India moves towards its goal to deliver 175GW of renewable energy generation capabilities.
The Indian Government plays an active role to promote the adopting of renewable methods of energy generation by providing many incentives, such as generation-based incentives, capital and interest subsidies, viability gap funding, concessional finance, fiscal incentives, etc. The National Solar Mission aims to promote the use of solar energy for power generation and other applications to create grounds for it to compete with a fossil-based energy source. The Ministry of new and renewable energy (MNRE) also aims to reduce the cost of solar power generation along with the cost of materials required by implementing long-term policies and aggressive research and development to improve the technology.

The renewable energy policy in the country is causing the prices to shift from government-set prices to competitive auctions along with long-term purchase agreements. The competition in the industry has created the reduction in the cost of solar PV by 30-40%in just two years. As the auction prices yielded some of the lowest prices, the solar and wind energy together have formed India's growth in renewable energy production. In many Indian states, the auction prices are comparable to the cost of coal, accelerating India's clean energy production capacity expansion. The solar tariff has also declined to a low level of Rs 2.44/kWh following the historical falling trend of solar tariffs.
The Jawaharlal Nehru National Solar Mission had a set target for setting up the solar capacity, which was increased from 20 GW to 100 GW by the year 2022. At present, 23656 MW has been issued out whereas the letter of intent (LOI) had been set for 19340 MW. Development of solar parks and ultra mega solar power projects have also been undertaken by the mission; close to 35 solar parks have been approved in 21 states. Andhra Pradesh has already sanctioned the Kurnool solar park which is operational and has a capacity of 1000MW. Three new solar parks have also been commissioned in the states of Rajasthan with a capacity of 100 MW, Gujarat with the solar capacity of 500MW, and Mizoram with a capacity of 23 MW.
The ministry is also promoting solar panel installation in residential, society, government/PSU, and institutional sectors through the central financial assistance of up to 30% for residents and institutions in general category, and up to 70% for rooftop installations for special categories. Concessional of 90 crores has also been made available to Indian banks like State bank of India, Punjab National bank and Canara bank for solar rooftop installations from international institutions, such as World Bank, National Development Bank, and Asian Development Bank. The Ministry of new and renewable energy has also increased the solar RPO to 8%, which states that the State Electricity Regulatory Commissions are obliged to purchase a certain percentage of power from renewable energy sources.
Other initiatives like the green energy corridor which initiates inter-state transmission system between 8 states of Tamil Nadu, Karnataka, Andhra Pradesh, Gujarat, Himachal Pradesh, Rajasthan, Maharashtra and Madhya Pradesh, which are rich in renewable sources of energy. The project has received a finding of 10141 crores, which has a funding mechanism consisting of 20% State Equity, 40% Government of India Grant (total 4056.67 crores) and 40% KFW development bank loan (40 crores). India as a nation has also taken a leading role in the international community for promoting renewable sources of energy and was also the leading country along with France to form the International Solar Alliance (ISA). Bank loans of up to 10 lakhs have been assigned to individual borrowers for installation of Solar systems for the home.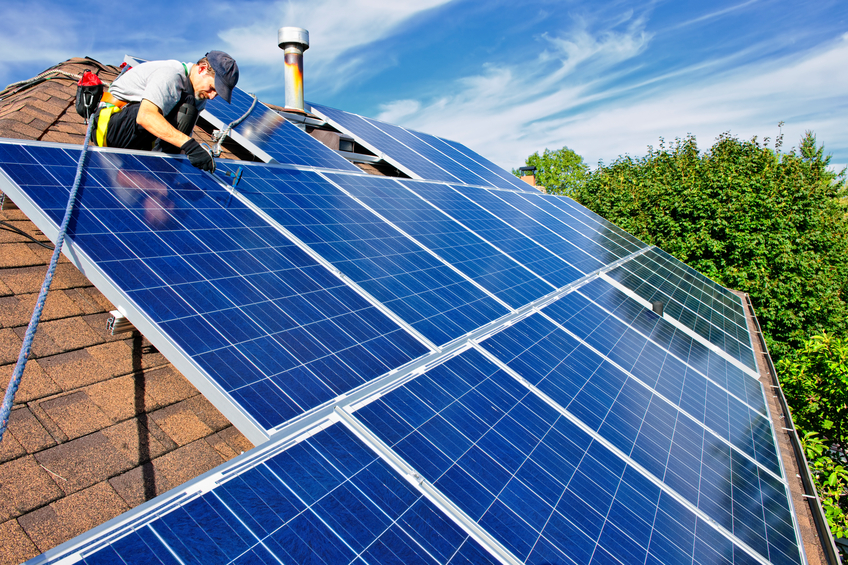 The most significant hurdle that the solar industries are facing is the efficient functioning of the solar panels. Presently, 80% of solar panels have less than 15% of the operation. Factors like the stationary nature of solar panels cause them to miss out on direct sunlight, and the majority of sunlight being wasted pushes the need for better design, chemistry, and the better absorption of sunlight by using nanoparticles. Much advancement in the field of solar energy has been made, such as capturing of the infrared spectrum of light which could boost the energy efficiency by 30%, along with companies making solar cells smaller which could also improve the efficiency of solar panels by a large margin.
In the last few months, however, the solar industry has been experiencing issues ranging from lack of energy transmission infrastructure, increasing the cost of solar panels, and deficit in power demands. Many large-scale projects with a capacity of 1000 MW haven't yet been commissioned by the government. The goods and services tax which was levied by the Indian government also had caused a lot of problems due to the expected rise in the price of solar panels. Although the solar market is on a record-breaking path, the momentum has slowed down, the addition of capacity has only reached 7,100 MW, which is 3,000 MW less than the set annual target.
As the solar energy field has made discoveries and an improvement in the level of technology, it has attracted many private companies to pursue the area. Many Indian solar companies like Tata power solar system, Sollink, Vikram Solar, etc., are providing services to households and institutions. India is also looking for an elegant solution to tackle the lack of space available for solar parks by looking into revolutionary projects like floating panels which is being developed by a French company. Many projects like energy harvesting trees by using the leaves of trees to power small electronic devices and the use of microwaves to transfer energy from solar panels which are near-earth orbit are some innovations to look forward to in the future.